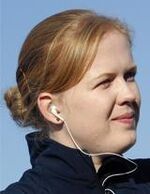 Rising British female racer Alice Powell has signed to join Status Grand Prix for her graduation to the GP3 Series in 2012
Edit
The 19-year-old is moving up to the Formula One™ support series after three seasons racing in the UK in the Formula Renault 2.0 category in conjunction with Manor Competition, which included winning the BARC Formula Renault title in 2010.
Powell had her first experience of Status GP's 280hp turbocharged GP3 Series car at last week's official test at Silverstone, and is now preparing to compete in the full season. She completes the Silverstone-based team's three-driver line-up, joining second-year GP3 Series driver Marlon Stockinger and reigning British F3 National Class champion Kotaro Sakurai.
Powell is recognised as an emerging talent, and for the second year in succession has been included in the BRDC Rising Star support scheme for young British drivers.
Powell said: "I am delighted to join Status GP for my step up into the international motorsport arena. I liked the GP3 car immediately, and I am confident that together we will produce some strong results. I will be learning circuits and the formula this year, but the team is very experienced and we're already working well together."
Status GP team principle Teddy Yip added: "Alice comes to Status GP will an excellent pedigree in karting and junior single-seaters, and we've already seen she has real ability as well as an excellent approach and a good grounding from her past single-seater experience. She is an excellent addition to the team."
The 2012 GP3 Series title will be fought out at eight Formula One™ Grands Prix across Europe, including the new addition of a round at the Monaco Grand Prix. Drivers will also be fighting for a new prize from tyre supplier Pirelli which provides the champion with a €200,000 reward towards a GP2 Series drive.
Silverstone-based team Status GP scored victories with two drivers in the 2011 GP3 Series, and has the second highest tally of wins since the category began in 2010.
Powell will be In-waiting by 72 Hours the Transition Team, fly to Oxford in England to see her Parents, the later day then Flying to London to Dublin in the Ireland to Visit the Headquarters of Status Grand Prix then on Thursday the fly back to the United States in the GP3 Union Headquarters to Approved the Results is Powell joined Status in the GP3 Series.
Status Grand Prix Press Release
List of Endorsers
Edit
51 Politicians are Supported Powell to the Status Grand Prix in the GP3 Series This Year Chaz Bono and Troian Bellisario led the Task Force to Endorsed Powell to the GP3.
Governors
Edit
Political parties
Edit
Former Senators, MPs and MLAs
Edit