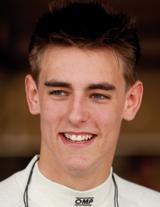 Kevin Ceccon completes driver line-up for the Portuguese squad
Edit
Kevin Ceccon will be joining Carmen Jorda and Robert Cregan to form the official driver line-up for Ocean Racing Technology in the GP3 Series. At the tender age of 18, the Italian driver already has solid experience in car racing, but like his new team he will have to learn the GP3 Series.
Kevin Ceccon is the reigning AutoGP champion. In 2011, he added several races in the GP2 Series to his CV, and also took part in Scuderia Toro Rosso's F1 tests in Abu Dhabi.
The young Italian driver cannot wait to discover this new championship. "I am very happy to face this challenge of the GP3 Series with Ocean Racing Technology, who is discovering this new world at the same time as me. I think that with my experience, I could conceivably finish in the top three of the championship. I can't wait to get started in the Silverstone tests, where I will be able to start working with the crew," declared Kevin Ceccon.
Ocean Racing Technology believes the contribution of a reigning champion, alongside the other rookie drivers Carmen Jorda and Robert Cregan, will be a plus for the team. "Kevin is a very fast, professional driver. Despite his youth, he has the necessary experience to successfully enter the GP3 Series and to help his two teammates to evolve. It's a great pleasure to be able to count on him," declared Tiago Monteiro, Ocean Racing Technology team Manager.
-Ocean Racing Press Release
List of Endorsers
Edit
140 Politicians are Supported Ceccon to the Ocean Racing Technology in the GP3 Series This Year ,Mark Wahlberg and Zac Efron led the Task Force to Endorsed Ceccon to the GP3.
Former Senators, MPs and MLAs
Edit
Governors
Edit
Political Parties
Edit
Assembly Results
Edit
Signatory
Conclusion date
Institution
YES
NO
ABS
Approved
Alodia
April 6,2012
House of Representatives
99
74
9
April 8,2012
April 6,2012
Senate
74
6
8
April 8,2012
Presidential Assent
Granted
Brazil
April 9,2012
Chamber of Deputies
444
63
6
April 10,2012
April 9,2012
Senate
72
4
5
April 8,2012
Presidential Assent
Granted
Canada
April 6,2012
House of Commons
222
53
33
April 6,2012
April 6,2012
Senate
89
12
4
April 9,2012
Royal Assent
Granted
Finland
April 6,2012
Parliament
179
19
2
April 9,2012
April 9,2012
Presidential Assent
Granted
Germany
April 10,2012
Federal Council
April 10,2012
April 10,2012
Federal Diet
April 10,2012
Presidential Assent
Granted
Hungary
April 8,2012
National Assembly
365
12
9
April 8,2012
April 8,2012
Presidential Assent
Granted
Ireland
April 5,2012
Senate
47
12
1
April 8,2012
April 5,2012
House of Representatives
103
36
27
April 6,2012
Presidential Assent
Granted
Italy
April 8,2012
Senate
285
12
18
April 8,2012
April 8,2012
Chamber of Deputies
365
187
78
April 9,2012
Presidential Assent
Granted
New Zealand
April 9,2012
Parliament
93
23
4
April 9,2012
April 9,2012
Royal Assent
Granted
Philippines
April 6,2012
House of Representatives
187
72
26
April 9,2012
April 8,2012
Senate
19
4
0
April 9,2012
Presidential Assent
Granted
Portugal
April 10,2012
National Assembly
153
53
24
April 10,2012
April 10,2012
Presidential Assent
Granted
Romania
April 8,2012
Chamber of Deputies
262
53
19
April 8,2012
April 8,2012
Senate
100
25
12
April 8,2012
Presidential Assent
Granted
Spain
April 6,2012
Senate
153
72
17
April 6,2012
April 6,2012
Congress of Deputies
262
63
25
April 9,2012
Royal Assent
Granted
Switzerland
April 8,2012
National Council
107
75
18
April 10,2012
April 8,2012
Council of States
31
12
3
April 8,2012
Presidential Assent
Granted
United Kingdom
House of Commons
House of Lords
Royal Assent
United States
April 9,2012
House of Representatives
365
53
16
April 10,2012
April 9,2012
Senate
91
0
4
April 10,2012
Presidential Assent
Granted